"The city budget transcends numbers, it is a narrative about our city's priorities. It is a story of afterschool programs, accessible shelters, captivating murals, trash pick-up, neighborhood gardens, affordable transportation, and everything that goes into making Philadelphia our home." 
We believe imagination is key to creating a just, equitable budget that serves every Philadelphian. Over the last three years, Mural Arts Philadelphia has led this process of imagination by producing a series of creative projects about the city budget, led by artist Phoebe Bachman. This year, we created the People's Budget Office at LOVE Park, an installation that educated residents about the city budget and provided a platform for inquiry and advocacy. Participants learned about the proposed budget through printed resources, council hearings, and convenings and were encouraged to add to an idea board of funding priorities and advocate at public hearings. During the installation, artists were invited to interpret the budget and visualize issues such as libraries, illegal dumping, art in schools, taxes and progressive revenue, alternatives to incarceration, and harm reduction. This short report explains our methods of engagement and presents a summary of funding priorities collected at the People's Budget Office in spring 2023. 
The People's Budget Office was produced by Mural Arts Philadelphia in partnership with the City of Philadelphia Budget Office, Councilmember Kendra Brooks' Office, Philadelphia Revenue Project, LOVE Park, and Philadelphia Parks and Recreation. The project was led by artist Phoebe Bachman in collaboration with Blanche Brown, Root Catalyst, Maia Chao, Pamela Chuang, josh graupera, Oscar Gresh, Maria Möller, Lili Razi, Sam Rise, Arshayla Robinson, and Erik Ruin.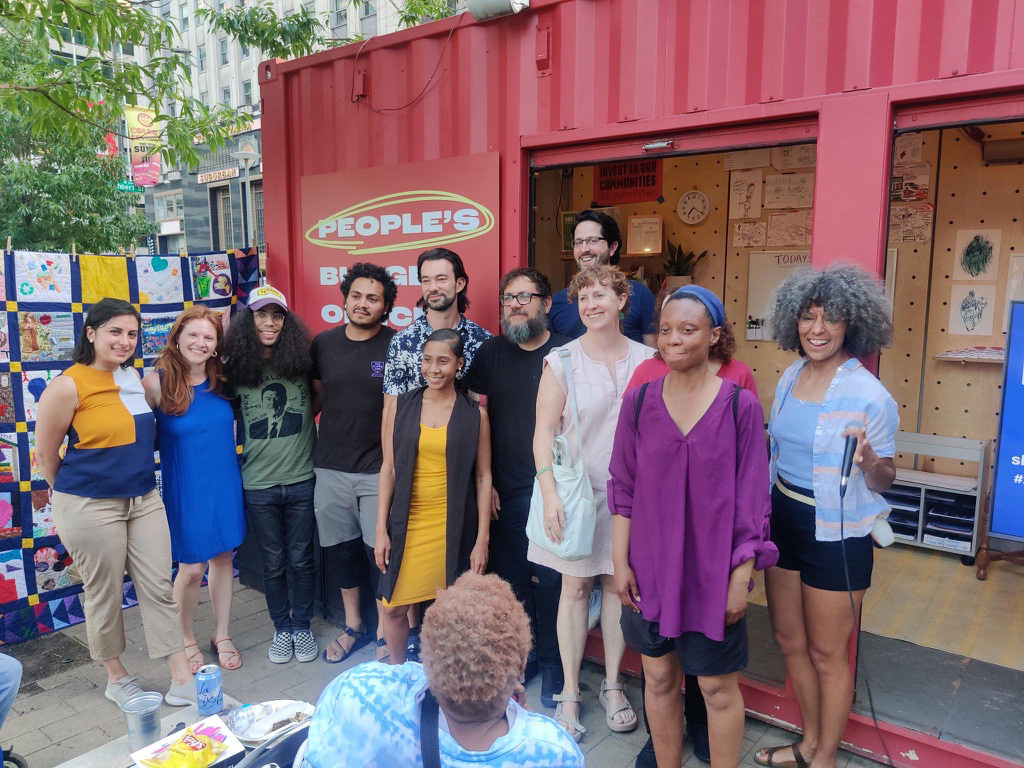 Over the course of 2 months, we interacted with over 450 individuals across different age ranges, neighborhoods, and racial backgrounds. We utilized a number of different methodologies to gather input on both revenue and expenditure concerns. 
We held a total of fourteen events that ranged from panels and roundtables, to art making workshops, to focus groups. Ten public events focused on different issues in the city budget including libraries, art in our public schools, criminal justice reform, taxation, dumping/sanitation, progressive revenue, and urban farming. We held four focus groups co-hosted by the City of Philadelphia's budget office, at the People's Budget Office and online.
Much of the input from the community came from people who dropped by our "office hours" at LOVE Park and shared their ideas on post-it notes, postcards, and in conversation. People also responded to specific questions about the $1.5 Billion that goes towards Police, Prisons, and other criminal justice projects. Additionally, throughout the project, we connected with grassroots groups across the city to document their funding priorities.